Recipes, Nutritional Tips... Plus!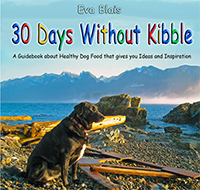 The book 30 Days Without Kibble is a "happy read" with recipes for 30 days and ideal as a resource or as a gift.
In addition, it lists wholesome healthy snacks to share with your four-legged friends. It also has a few tips on "what my grandmother would have done" in different situations concerning the well-being of your buddy.
It is the kind of book to give to friends and to look to for inspiration.
NOTE: The eBook is currently being updated. Please check back.
I think dogs are the most amazing creatures; they give unconditional love. For me, they are the role model for being alive.
— Gilda Radner (comedienne)
PURPOSE
My purpose is to share my 25+ year journey of continous learning and breakthroughs in my quest to have healthy 4-legged companions.
PHILOSOPHY
My philosophy of life is clear and simple: do the absolute best you can for your fellow beings, whether they are two-legged or four-legged, and expect nothing less from those surrounding you.
If there are no dogs in Heaven, then when I die I want to go where they went.
— Will Rogers (actor)